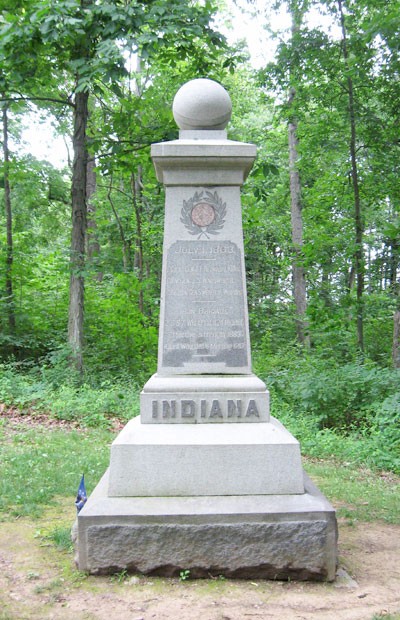 Monument to the 19th Indiana Infantry at Gettysburg
About Us
We are amateur and professional historians in Central Indiana dedicated to studying and understanding the American Civil War. We welcome anyone interested in the American Civil War to join the ICWRT. Annual dues are $30 for an individual, $35 for a family,or $15 for a student. The dues are used to defray production costs of our newsletter, Hardtack, and other programs. We invite you to attend a meeting as a guest and we feel that you will enjoy your visit and enlist. To enlist for the upcoming campaign, Click Here for a membership form


Next Program
What:
Edmund Ruffin: Father of Modern Agriculture, Southern Secessionist & "Fire-Eater"
Who:
Dan Moll
When:
December 9, 2013 at 7:30PM
Where:
Indiana Historical Society (Directions)
Dan Moll is an avid Civil War history buff. At the present time, he is the President of the Blue & Gray Roundtable in Connersville. He has been a reenactor for many years. Dan portrays a Confederate refugee following the army because he was too old to fight and because his home was destroyed by the Yankees. Dan also portrays his wife's Union great-great grandfather in dual readings of his letters home to his wife Rachel. His interest in Edmund Ruffin stemmed from the question: "Why did the South go into this war knowing that they were outnumbered in population and manufacturing plants?" This research led him to Edmund Ruffin. Edmund Ruffin was also older and clean shaven, thus making him easier to portray! Please note -THAT THE BELIEFS OF EDMUND RUFFIN ARE NOT IN ANY WAY SHAPE OR FORM THAT OF DANIEL MOLL!!!
2013-2014 Program Schedule
| | | |
| --- | --- | --- |
| Sept. 9, 2013 | Embalming in the Civil War | Jon Austin |
| Oct. 14, 2013 | 500 Strong: Wabash College Students in the Civil War | Professor James Barnes and his wife, Patience Barnes |
| Nov. 11, 2013 | U.S. Christian Commission | Kevin & Cindy Rushton |
| Dec. 9, 2013 | Edmund Ruffin | Dan Moll |
| Jan. 13, 2014 | Sutler Tokens | Dennis Haskett |
| Feb. 10, 2014 | VMI's Civil War Legacy | Dave Sutherland |
| Mar. 10, 2014 | Civil War in popular culture | Justin Ellison |
| Apr. 14, 2014 | The Shadow of Shiloh: Major General Lew Wallace in the Civil War | Gail Stephens |
| May 12, 2014 | The Battle of Cedar Creek, by Col. W.H. Polhamus | Fred Leickly |
| Jun. 9, 2014 | State and County Governments providing material & financial relief for soldiers' families | Anita Morgan |

Click here for a copy of the current Hardtack newsletter.

Click here for information on a book describing the first 50 years of the Indianapolis Civil War Round Table